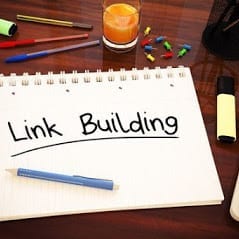 Linkbuilding is a critical SEO factor
Geschatte leestijd: 6 minuten
In this blog you will read about the do's and don'ts in SEO Linkbuilding strategies. Linkbuilding is critical for most SEO campaigns because to really simplify it, links count as votes and the more votes you have, the higher you rank.
What is Linkbuilding?
Linkbuilding is all about increasing your site's popularity. If your site link is available on a high ranking website, then you have a very big chance that your site will be indexed within 24 hours. Achieving a top ranking for your website is based on a combination of on page factors, the quality of inbound links, link authority and link text.
Bad links & good backlinks
With SEO Linkbuilding efforts it is essential to avoid Google penalties. Your rankings will be downgraded if you have one. For example spamming links are very bad and avoid to remove a lot of them at once. Look at the SEO Backlinks website for a decent source of data for links that were pointed at a website sometime in the past.
Google penalty
Let's say your website ranking is at the top of Google one day and the next day you are on page 9. It's highly likely that you got penalized. Using Google Webmaster is also a good way to figure out if your site received a penalty. Herefore you will get a message about unnatural links.
Rules to avoid bad links
Never build a link on a website that exists solely for the sake of selling links. Links that point out to your website from a deindex site are bad news.
Do'nt go for anythingcheap or automated.
Avoid any type of service in which you get an article posted all over the web (except for a press release) spinning service and other things like that.
Don't join any link trading networks in which you pay some kind of fee to swap links with other websites or any similar structure.
Do not worry too much about the nofollow tag which supposedly tells Google not to follow a link and not to count the link as a vote. a no follow link from a high quality website is of great importance.
Don't obsess about anchortekst. Take care of natural anchorteksts.
Poor SEO Linkbuilding
Poor backlinks include:
Backlinks on low quality pages. These include any page that does not offer much value or has no real purpose other than provide a backlink..
Backlinks on spammy websites: Any website in a bad neighborhood should be avoided.
Backlink are off topic and irrelevant pages.
Large numbers of backlinks all using identical keyword rich anchor text.
How to build good links
Sign up for all prominent directories in your industry.
Create a profile on all the high quality major directories like Yelp, Angies List, Thumbtack, YP.com, Citysearch etc..
Create a Youtube channel and upload some video's. Link to your website from the video descriptions and channel homepage.
Sign up for a BBB listing like https://www.bbb.org.
Have a social media presence on sites like like Facebook and Twitter and link them back to your site.
Go after all the really easy links that you can think of. Maybe your webdesign company is willing to link to you from their portfolio.
Use a press release service
The page containing the link relates to the page it links to.
This page containing the link is a high quality page, with high quality content.
The link is in the body of the article and contextual.
There are very few outbound links to other websites on the same page.
The page your link appears on has a lot of human interaction like social shares and comments)
You do not control the backlink.
Other SEO Linkbuilding strategies
Join or create a tight network of other small business owners and exchange links.
Place banner ads or text links on forums, online newspapers, magazines and high traffic blogs.
A lot of local charities will have a sponsor page, or might even display your logo and website link from their homepage.
use article posting with a link on really high quality websites like Forbes, Entrepreneur.com or the Huffington Post.
Develop relationships with other webmasters
Best SEO Linkbuilding strategies to follow
Building links on pages that Google actually knows about it. Sometimes a page looks great at first glance but Google hasn't even indexed it. Simply go to Google and type for example info:yahoo.com. Manually building high quality links on high quality websites and not relying on anything spammy, automated or low quality. That is the best Linkbuilding strategy for you.
Adding expert quotes/Thought Leadership
Quoting an expert is one of my favorites to boost content linkability and shareability. It's quick and easy. When you write out of your expertise area, adding a quote of a thought-leader gives your content more credibility, value and it will boost its linking potential. Depending on how influential your company is, you can either select an existing quote or reach out to the specialists and ask for a new one.
SEO tip: If you decide to go with a pre-existing quote, contact the expert in advance to confirm it. This way, you are sure that they still stand by that opinion, plus, they're okay with you quoting them. Remember, while quoting experts is a good idea, you also need to find the right expert and the right quote. This is how it works:
If your brand has a big audience, I recommend starting by checking your current followers and subscribers across the different channels, including social media. You might not know it, but there's a reasonable chance you'll find real influencers among people who follow you.
Another way is to analyze the websites that link back to your site. To do that, you can use Moz Link Explorer starting with a 30 days free trial, that will show the list of URLs that are referring to your website. Chances are, some of those authors can be pretty influential in their niche.
At last, you could use BuzzSumo to find the SEO content that performs best in your Linkbuilding strategy to find relevant influencers to contact. For example, you could export a list of bloggers who are contributing to the industry-leading blogs.
SEO Optimalisation & Content Marketing Blogs
Hire a SEO specialist in The Hague
Herman Geertsema is the owner of digital agency Connect your World in Den Haag. He is an experienced SEO specialist & Content Marketing expert. Connect your World execute assignments in Den Haag and the regions Rotterdam, Amsterdam, Utrecht & Breda. Do you have a question about a Linkbuilding strategy? Or do you want to hire me as a SEO specialist for any SEO strategy? Please surf to My Contactpage and call or e-mail me.