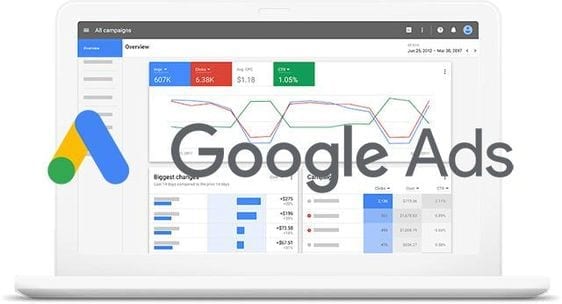 Google Ads
Geschatte leestijd: 6 minuten
Thanks to Google Ads, millions in sales have been accumulated for many companies. That's why Google Ads are important. In this blog, we are going to give you a lot of tips and advice about Google Ads.
In this particular blog we are going to address the following topics and explain why we work with a certain strategy.
How do you get more clicks for the same marketing budget?
How do you get more conversions for the same marketing budget?
The basic fundamentals of a sales page
Follow up on your leads
Looking for tips to improve your Google Ads campaign?
Do you currently have a Google Ads campaign running, and do you think the results are disappointing? Then keep reading! We are convinced that these 4 tips can greatly improve your Google Ads campaign.
Cheaper click price
A cheaper click price not only results in more search traffic, it also leads to more sales, leads & customers. You should see it this way. For example, if you pay € 1 per click, you will get a hundred people on your website for € 100. But when you can reduce the costs to € 0.50 cents, you suddenly get double the search traffic. So if you get 4 leads with a hundred website visitors, it is logical that you will also double that number. You get a cheaper click price by making an ad that is as relevant as possible for your search term.
Think of the SKAG method (Single Keyword Ad Group).
This means that you place a search term per ad group, in this ad group you can place multiple ads that are one hundred percent relevant to your search term. When you apply this method, you will not only get cheaper clicks, but you will also beat your competition in the Google Ads auction.
Google Ads action
The Google Ads auction is a formula that determines which position you will be placed on. Without this auction, the people with more money could dominate everyone, as they have the opportunity to start advertising for thousands of dollars every day.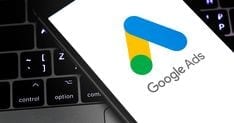 Fortunately, the auction works as follows: We check how relevant your ad is that is linked to your search term. It checks how long a person stays on your website and it looks at what your bid is. In this way, advertising on Google is made as "fair" as possible. Also remember that Google is a platform to help people get the right answer as well as possible. Google would be a bad search engine if we don't get the right answer we are looking for.
How do you get more conversions, leads or sales for the same marketing budget?
Actually when you apply the top situation, you will already get more conversions against the same marketing budget. But to work even more efficiently, We advise you to start split testing.
This is how you send people to a specific landingpage in your marketing campaigns. On this page you try to "sell" your service or product as well as possible, so that these website visitors register with you for a free quote, webinar or perhaps a purchase.
You naturally want to test this landing page split, because you often have different perspectives on how you can sell your service or product.
Turn your service or product into multiple pages with different angles:
Play on emotion
Respond to pain points
Create a result-oriented landing page
Respond to the needs of your website visitor
So you can test different landing pages to find out which one gives the best result. We bet that when you have done this, your costs can drop by at least 20%. In this way you can generate more customers, leads or purchases for the same marketing budget.
The basic fundamentals of a sales page
What makes a website a good website? What makes a salepage a good page?In our opinion, a website is only "good" if it really structurally generates new leads and customers. When will my website be ready? In this case, in our opinion, a website is never finished! We can add a new blog every week, or add adjustments, add articles to my knowledge base, obtain links A good salepage contains a number of elements. A sales page is usually applied according to the AIDA formula.
A = Attention
I = Interest
D = Desire
A = Action
Attention: You want to get the attention of your website visitor. When you have his attention, this person will more carefully navigate your website page.

Interest: Arouse a certain interest in your website visitor.
Desire: Create a certain desire, make sure that the website visitor gets a feeling of "I want this".
Action: Let the website visitor take action. So think of downloading my e-book, free quote, free webinar and so I can mention a few points. As long as your website visitor takes action!
As you can read, this AIDA formula is a good structure to adhere to. You can easily write a certain text via this method. Then you convert this text into a landing page, when a website visitor follows your page, the conversion percentage will also be many times higher!
Follow up on your leads
As soon as you carefully follow the top 3 tips, you will see that an abundance of leads will come in. My question to you is how do you follow up on these leads? For example, they request a quote, you call them for an appointment, after which you come by and then they hear very little from you. That is of course a shame, when a website visitor decides to register with you they are warm. At the moment they have viewed your website and are confident in your expertise. To keep this warm lead you can follow it up and also completely automatically, it doesn't actually cost you much extra work …
The moment someone signs up you can add them to a mailing list, in this mailing list you can make a lead warmer and warmer. You can measure exactly whether someone has read a particular email.
Why would you follow someone up with emails?
Well simple, if someone is interested in your service or product, and you can send this valuable information by e-mail with, for example, tips, videos, case studies, you make this lead warmer and warmer. What then happens next. Because you give so much value to this lead, the piece of sales will also become easy because you make it warmer yourself with your expertise. These emails are sent completely automatically, you can determine at what times you want to send an email, to whom and when.
SEO & Content Marketing Blogs
Hire a Google Adwords specialist
Herman Geertsema is the owner of SEO & Content Marketing agency Connect your World from The Hague. He is an experienced SEO specialist & Content Marketing expert. He knows the answer why Google Ads are important to gain more leads and earn more money with the help of Google Ads. Give me a call or drop an e-mail if you want to know more about why Google Ads are important for your company.