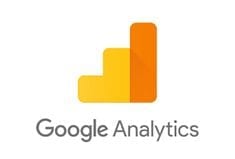 How to measure the succes of your website
Geschatte leestijd: 8 minuten
Web analytics changed how we do business in the 21 century. Now we can find valuable insights into customers, including what was previously difficult or impossible to discover, including information on website visitors, demographics, interests, online behaviors and more. We can find out what works and what doesn't, cut underperforming marketing campaigns and increase budgets for winning campaigns. Simply put, web analytics have made it easier to grow almost any business. read on for a quick guide covering the nuts and bolts of web analytics, and how to put web analytics to work for your business.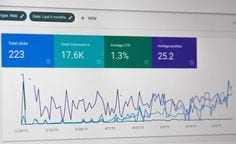 Google Analytics: why use it?
You may have already heard about Google Analytics. Google Analytics is the web analytics platform used by the majority of websites. It has its specialities, but it is the best readily available, allround analytics tool available for understanding site traffic. And the best part, it is free.
Website monitoring
If you don't have Google Analytics installed, install Google Analytics now and then kick your web developer. Without Google Analytics set up, growing a business online is like trying to pilot an airplane blindfolded. Without Google Analytics it is difficult to find out what works and what doesn't, identify issues and solve them before they turn into bigger issues, and get a sense for the general direction your business is headed. Google Analytics is usefulness for monitoring the performance of a business and is applicable to about 95% of businesses.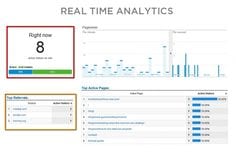 How to use Google Analytics?
Let me tell you something abruptly. On it's own, most data is useless. You heard correctly, for real awareness and insights, we need to be able to compare data and identify trends over time. There are two ways to analyze and understand data in Google Analytics in reference to time:
Compare two data ranges
Click on the date field input in Google Analytics. Enter two timeframes and you can compare them both. Usefull date comparisons include comparing this week's performance to last week's performance, last month's performance to the same month the previous year.
Look at the charts over a long time frame
Simply look at the charts over the longest time period possible and look for trends, without comparing date ranges. This is not so effective for finding hard to find information or identifying granular insights, but this approach is useful for a bird's eye view of the direction your traffic is heading.
Seasonality
Seasonality is a factor affecting many businesses. Sometimes you may see a downturn in traffic, but this may not necessarily indicate your site is performing poorly. It could be that your market experiences a downward trend in certain months. If your business is experiencing a downward trend, use the compare two date ranges approach and compare the current month's traffic to the same month last year. If you are seeing increases, then you know your website is performing well, irrespective of seasonable trends.
Web analytics: acquisition
Acquisition is an area of Google Analytics any business owner or marketer should spend a lot of time reviewing. The acquisition section of Analytics breaks down where your site traffic is coming from. Without keeping a close eye on your traffic sources, it is almost impossible to make informed judgments about the performance of your site or your marketing.
In a SEO perspective you will hope for a traffic increase by organic search.
The Organic Search Report is essential for monitoring your performance in search engines like Google. Within the organic Search report, you can actually see how many times you received a visitor from a search engine.
Segments
Imagine if you could narrow down to a particular segment of your audience, such as paid traffic, search engine traffic, mobile traffic, Ipad users and so on, and instantly see how many inquiries these users have made, how much time they are spending on your site, what country, they are from, and how many sales they are making. This feature exists and is called Segments.
Segments & audiences
Segments are powerful. With segments you can identify portions of your audience that potentially generate more inquiries of sales than other customers. You can even identify portions of your audience having difficulty using your site, and get insights to fix these areas for better performance.
Web analytics terms explained
What is a pageview?
A pageview is counted each time a user loads a page on your site.
What is a unique pageview?
Similar to a pageview, but if one user loads a page several times it will only be considered on e unique pageview.
What is a session?
A session is what occurs when a visitor arrives at the site, and then at some point closes the browser. If that visitor returns again, this is counted as an additional session.
What is a user in Google Analytics?
If a user visits your website, and then returns at a later stage, this is counted as one unique user.
What is a conversion rate?
One of the most important metrics to monitor is your site conversion rate. A conversion rate is the percentage of users completing a dseired action. The action could be filling out an inquiry form, downloading a product or buying something from you. If you receive 1000 visitors and thirty of those visitors complete a sale, this means you will have a conversion rate of three percent.
What is a goal in Web analytics?
Goals are custom goals you can set up within Google Analytics to track particular business goals or targets you may have for your website.
What is a bounce rate?
If a visitor visits your website, and then leaves without visiting any more pages, this is a bounce. The percentage of visitors who bounce is your bounce rate.
A common question among marketers and business owners is: what is a good bounce rate? There is no general rule. Bounce rates vary greatly between sites and industries. If you find a particular page with a very high bounce rate above 70%, this could be a indicator the visitors do not like the content or they experiencing technical issues.
Call tracking
Tracking and attributing phone calls to marketing channels was previously and arduous task for the local or international marketer, but finally it is now both and cheap and easy to track the source of phone calls in your marketing campaigns.
Key points for implementing call tracking
If you rely on SEO or local SEO, it is important to keep your real phone number displayed on your website, for both users and Google bots. NAP have to consistent. Otherwise it will hurt your SEO rankings negatively.
Web Analytics & SEO
You will find a lot of data in Google Analytics. As a SEO specialist I will find the next metrics important to monitor:
Website views
Page views
Desktop versus mobile
Average session time
Social/Direct/Organicsearch/Referral
Time on site
The main focus is on the bounce rate and time use of the website. With the help of the bounce rate you gain insight into the extent to which a page stimulates click-throughs on the website. A high bounce rate means that the page does not motivate enough to click through to other pages on the website. Then the visitor has left too quickly. With the use of time you gain insight into the relevance of your content. Relevance of your content is very important for SEO content. A short time commitment indicates that the content present is not interesting enough for the visitor, so that the visitor leaves. It is important to avoid a high bounce rate and a short time commitment.
Returning visitors
In addition to the bounce rate and time use, Google Analytics also provides information about new and returning visitors. For example, you can see where new and returning visitors find you, which is ideal to find out how your SEO keywords score. You can see this by looking at "Searches" under the heading "Search engine optimization" of "Acquisition". The image below shows an example of the results.
SEO & Content Marketing Blogs
SEO specialist The Hague
Herman Geertsema is the owner of SEO agency Connect your World in Den Haag. He is an experienced SEO specialist and Content Marketing expert. Digital agency Connect your World could help you in the next regions: Amsterdam, Rotterdam, The Hague, Utrecht & Breda. We finished several SEO projects successfully in cities like Leiden, Zoetermeer, Rijswijk & Delft. A lot of information on this site is in Dutch, but an increasing amount of information is in English.