Geschatte leestijd: 70 minuten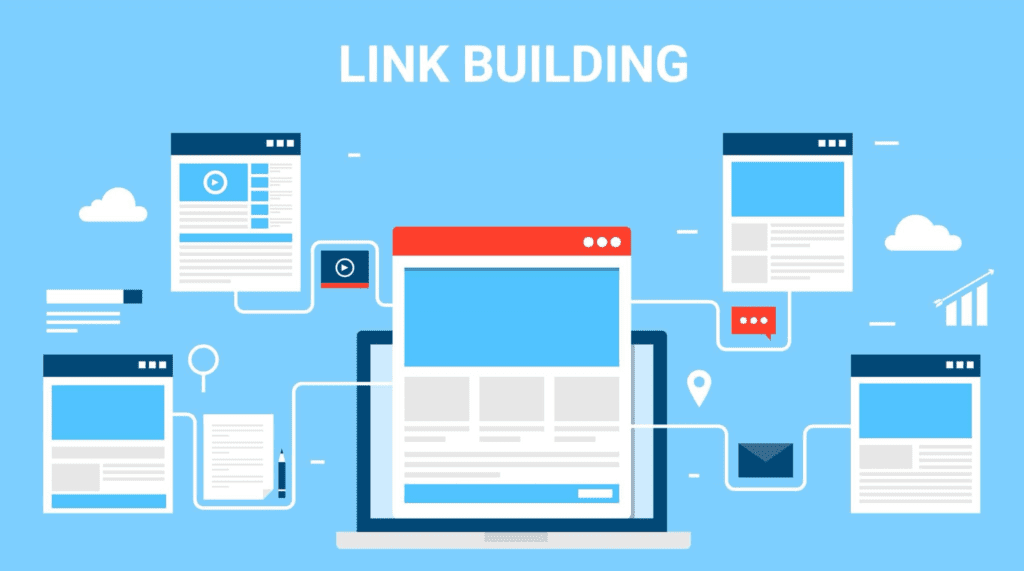 What is Linkbuilding?
Linkbuilding is a proces of acquiring hyperlinks from other websites to your own website. It is one of the many SEO strategies. Enough quality backlinks is a sign to Google that your website is a relevant one.
What is a link?
A link or backlink is simply a link from one website to another website. Quality backlinks can improve website SEO rankings and increase visibility in the Search rankings of Google.
What is an anchor text?
According to Ahrefs – Anchor text refers to the clickable words used to link one web page to another.
What is link juice?
According to Mozz, Link equity or "link juice," is a search engine ranking factor based on the idea, that certain hyperlinks pass value and authority from one webpage to another webpage. Links that pass equity are one of many signals, that Google and other search engines such as Bing use to determine page's rankings in the SERPs.
1. Link worthy website
What is the motivation for one website owner to link to another website and pay attention to linkbuilding? The fundamental principle of the web is to allow any document to link to and to be linked to from any other document. It is interesting that nearly every commercially related web development since its founding has been in some way related to the link. That is an attempt to find new ways for one site to be linked to another. Some examples are:
Banners
Text ads
Buttons, badges, icons
A tweeted url
A list of search results
They are nothing more than links. In the first chapter we will discuss links or backlinks and what contributes to making a website link worthy. Secondly we discuss the different types of anchor text.
1.1 Useful content & a link worthy website
Engaging & useful content is synonymous to rich quality content on a specific subject or which the editor or provider is an authority. Think about websites urls with a gov. or edu. extension. For example sites of the government & NGO's. Established companies like Apple, Dell or newspapers like the Financial Times, New York Times are also a good example.
Useful content gets linked
But to be honest most sites simply do not have the kind of content that engenders tens of thousands of links. Sow what do you do? What if you simply trying to sell a few widgets and don't have any reference to quality content? If your site lands on the left side of the useful continuum you accept that you are not going to get many backlinks. And those links you do get, you will probably have to pay for. Those backlinks you pay for are not likely to help your SEO rankings and might even hurt them. If you don't want to accept this reality and truly want to earn links to your website, you have one and only one other option and that is make it link worthy.
1.2 What is a link worthy website?
If a website is linkworthy or not highly depends on what it is capable of offering to its audience – 'rich quality content'. However most of the time websites with a high domain authority and already established websites get the most attention. Useful engaged content gets linked. Product's don't. What if you sell beer, along with your products you can create a searchable database of information on all the different beer brands. This would then be an excellent example of how a store website can add rich relevant content, value, interest and community to its website as well as sell merchandise.
1.3 Backlinks types
We will start simple, because it's important to know all the different types of links. This chapter will help you:
Understand each backlink type by providing you with definitions.
Determine which types of backlinks will help you to boost your SEO rankings.
Explain which backlinks you want to add to a disavow sheet.
1.4 Natural links
A natural link is the one that occurs organically. It is not seen as being placed by you or your company. Natural links don't have tracking parameters. They do not exist within paid or sponsored content. A natural hyperlink exists as a reference to a piece of (cornerstone) content, website, or source.
1.5 Unnatural links
Unnatural links are backlinks that are paid for. These backlinks can be: placed and tracked for example by public relation firms, monetized through affiliate programs, click per cost campaigns, influencers, or monetization scripts. Google can potentially, if these backlinks aren't no followed, take manual action on your website. Or your website will be negatively impacted most likely by the Google Penguin update. This is because they are not earned in a natural way.
1.6 Semi-natural backlinks
Most of the time you'll discover a "mixed" backlink pattern. For example, you may find a natural link that uses tracking parameters. You clicked through from an influencer, who has been paid to share a link. That link will lead to the landingpage. Next it may have the tracking parameters in place. Bloggers and others who follow that hyperlink may copy and paste it directly into their site and giving natural links with these parameters. This could be the result in an unnatural but organic link scheme.
Be cautious with redirects
Resolve this and make sure, that as a person reaches your site through a tracked backlink. You will place a redirect to pass the parameters with a natural page structure as a result. You will have the standard and non tracked URL as the one they use. Beside you will be able to properly attribute sales, traffic, and leads back to the original website or page. You can still measure the halo effect of additional backlinks and exposure by pulling a link acquisition report and crawling the shares, retweets, likes and pins from the initial influencer.
1.7 Quality backlinks
Quality backlinks are links that come from high-quality sites. Here is what to look at to determine the quality of a site:
The site is niche and has a regularly updated section about the subject.
There are no external backlinks to adult, illegal, or scam sites.
You don't see that they allow sponsored content, with the exception of clearly marked advertorials.
Media kits and publicly viewable advertising sections don't have a price for or mention of textlinks or backlinks.
Are they in the Google news feed? That's a good sign, that they are trustworthy or high quality in Google's opinion.
Acquired backlinks will be by staffwriters and not contributors. Contributors can be bought more easily and many large publications have begun nofollowing their hyperlinks.
The backlinks come from body copy. These backlinks have to be earned. Blog comments, forum mentions, press releases, and other areas where anyone can easily build or buy links isn't really quality.
Use your logical sense. Unless Donald Trump doesn't agree CNN is a high quality website.
1.8 What are good backlinks?
A good backlink is different from a quality backlink. It can be any type of hyperlink, that can have a positive impact with less risk. The factors of a good backlink vs. bad backlink can also change based on the type of SEO you are doing like Local SEO or International SEO. Local directories that are managed, maintained and do not have a submit your site option may be good for Local SEO. Probably they may not be good for national – or international SEO. Next, if they have a lot of age and continuously clean out old sites, dead sites and broken link errors, they will be beneficial instead of harmful.
Low visiting numbers
Furthermore there is an established blog without a many following that sticks to its niche. They are not doing well in Google even though they have excellent optimized SEO content. This is "OK" for me as well.
Engaged readers
Another one could be a new blog with relevant content, but doesn't have a lot of SEO traffic. It does have a lot of engaged readers. This would be a good backlink for me because they have a high quality audience. If they continue they could be a great source of traffic or sales and also pass authority from their links for SEO. The magic trick with good backlinks is to determine how they impact you currently and in the future. Each website is unique in its kind. All hyperlinks should be considered independently before disavowing it as bad or keeping it as a good quality backlink.
1.9 How can you build quality backlinks?
Keep a few things in mind when creating engaging content you want to get backlinks for.
Why would the men or woman want to share, link to or call out my piece of content by tagging a friend in it?
Did the content provide a solution to a common or unique problem?
What is special, unique or different about how I'm presenting and publishing this content?
How have I enabled people to easily share and link to this important content for me?
At what place have I advertised and published it, so that I can keep it in front of people who can give me high quality backlinks and references? Sometimes this could be an influencer with a large following of bloggers and journalists.
You will find natural links in a well SEO optimized website
It is all about quality, when someone mentions natural links. In fact that means they can not be easily acquired and they are in a well SEO optimized website or webpage. Most important of all is that they are in topically related content websites that match with your services, stores, site, or niche. Focusing on quality is what can help to protect your site as Google updates.
Most important, focusing on quality can help constantly bring in relevant readers through referring sites who may become customers, engaged readers, and a new source of backlinks and social media traffic.
1.10 Different types of anchor text
Exact-match
Anchor text is an "exact match" if it includes a keyword that mirrors the page that is being linked to. For example: 'coaching' linking to a page about coaching.
Partial-match
Anchor text that includes a variation of the keyword on the linked to webpage. For example: 'Coaching strategies' linking to a webpage about coaching.
Branded anchor text
A brand name used as anchor text. For example: 'Majestic' linking to an article on the Majestic Blog.
Naked link
A url that is used as an anchor 'www.neilpatel.com' is a naked link anchor.
Generic anchor text
A generic word or phrase that is used as the anchor. "Click here" or "Follow" are common generic anchor texts.
Images
Whenever an image is linked, Google will use the text contained in the image's alt attribute as the anchor text.
SEO best practices
SEO friendly anchor text is:
Concise
Pertinent to the linked to page
Low keyword density, not overly keyword heavy
Not generic
This second chapter will help you to more effectively design and measure your next linkbuilding campaign. At the very least it will get you thinking a bit more broadly about linkbuilding.
There are six broad factors we have discovered that impact a linkbuilding campaign's scope.
2.1 What's working well for you already?
We would like to start customers discussions with a question about what's working well already and not just in Linkbuilding? We may ask how our customers normally generate leads. It turned out that one of our clients had an e-mail list of 10000 subscribers that they had built up a great relationship with over the course of the past 10 to 15 years. They estimated that at least 10 percent of their list comprised active web content publishers. This made the list the perfect place to begin designing a linkbuilding campaign. We encourage you to think about what's working well already and to keep that in mind. Supporting and growing from what works can be far easier and more economical than trying to create something entirely new.
2.2 Your business and marketing goals
Specific business and marketing goals are often missing in linkbuilding campaign design. Especially when a campaign is designed in a vacuüm without input from other departments. Because linkbuilding has the capacity to impact goals far beyond your SERP rankings. We highly recommend that linkbuilders understand and support the company's specific business and marketing goals in the campaign design phase. Not only will this ensure the linkbuilders have a continued role in the organisation, but by solving the problem of how can linkbuilding support x. They will uncover a solution that maybe unique in the market.
2.3 What are your linkable assets
What about your organization is linkable? This can include in house social media celebrities, your organization's brand, your organization story, your free tools or widgets, your unqiue and helpful content or your available creative talent, actual budget and more. Further consider that your industry's definition of linkable can and will differ from those of other industries. If all your competitors have free web tools, then is is no longer a strong differentiator and may not incite interest and backlinks.
2.4 Link opportunities in your space
The link opportunities that exist from market to market can be quite different. For example, if you are targeting a consumer market, it could be that work at home dad bloggers are a key segment for you. But if you sell specialty airplane parts, then engaging the daddy bloggers might not make as much sense. Your market in particular, the publishers catering to your market that you want to earn backlinks from – determines the scope and type of opportunities available to you. Remember to always look for list results. Further the presence of lists indicates a robust publishing niche.
2.5 Departments requiring your input and influence within the organization
As a linkbuilding agency we find ourselves working primarily with the search engine optimization (SEO) department within the organization. Our methods typically involve content creation and industry expert engagement. This sometimes means we have to get approval from departments like PR, content strategy, social media, marketing, even the CEO before the campaign can really get rolling. We typically try to identify the department that our contact is most embedded within the department in which they have the most influence, and then we work to keep the campaign within their opportunity. So we can have the fastest impact. The more departments requiring input the more work the linkbuilder will have to do in mediating cross departmental concerns.
2.5.1 Sustainable ongoing linkbuilding campaigns depend on tactical cooperation
However for sustainable ongoing linkbuilding campaigns you will need to work the political scene within your organization. You have to be constantly on the lookout for ways to link enhance what others already doing.
2.6 Available resources
At the end of the day your linkbuilding campaign will come down to the amount of time and money you can put into it. Knowing how much time you can spend yourself and how much work you can ask for or require of others, can help you to define the entire scope of the project. Often your available resources hinge on your abilities as a linkbuilder as well as your abilities in effectively communicating porbable and actual returns on investment.
3. Linkbuilding campaign metrics
While get more links may be what your boss or your clients or even your SEO strategist recommends. How and why you get these backlinks pointed at your pages will impact the long term viability of your links as well as the value they pass along to your site. Before designing your campaign it is important to have a general sense of what you can accomplish with your work as a linkbuilder. Traditionally linkbuilders have sought search engine impact and measured their success based on increases in the SERP's. Increasingly though, linkbuilding experts have begun looking for metrics beyond SERP influence. This chapter looks at goals and areas of influence in both categories (SERP and non SERP alike). So you can set up a campaign that provides effective results and robust metrics.
3.1 Linkbuilding for increasing search engine rankings
Search engine algorithms use hyperlinks to make decisions about your site as a whole, its particular pages, and how effectively your pages solve the intent of a searchers's query. The classic way of describing a link's value as search engines perceive it – is that it is a vote for the page and ultimately the domain – it is pointing to. The link out suggests that this other page is relevant and worth investigating. Let's look at some various techniques and impacts of linkbuilding for search results.
3.2 Increase perceived trust/authority of your site
You will see an increase in organic traffic after receiving links from sites that have already earned trust and proved their authority to search engines like Google. These kinds of links help across the board for terms you are targeting, and they benefit sites best if the sites are already well optimized and without major issues. You will have little to no ability to guide the keywords impact of these kinds of backlinks. Unless you are buying the backlinks or you have developed clever campaigns.
3.3 Adjust perceived relevance of your website
Backlinks can and do send signals to search engines like Google regarding what your site is about, what industries and markets it serves, and the keyword clusters it is most related to. If you are expanding your market, focus or if you are just getting started, backlinks that help connect you to market spaces will help you immensely. You can think about relevance in terms of your geographic location as well, and links and other types of citations can help indicate to search engines that you can and should appear in the SERP´s targeting specific geo locations.
3.4 Direct SERP keyword impact through anchor text manipulation
The classic role of linkbuilders has been to directly impact theire website´s rankings by buying or placing links with specific keywords in the anchortext. This is still effective and often described as the most effective way to secure SEO rankings. That said, Google´s tolerance for manipulating rankings is zero, and they work hard with people and algorithms to punish linkbuilders who overdo anchor text links. So unless you have a website whose SEO rankings you can afford to tank, focus on achor texts that supports the reader and telegraphs the value in visiting the backlink.
3.5 Measure for search engine impact
If affecting search results is your core focus for linkbuilding, here are some things you can work on influencing:
Search rankings for converting keywords
Percentage of increase in converting search traffic
Percentage of increase in search traffic from geographic regions
Increase in number of pages on domain that yield traffic
Percentage increase in non-branded search traffic
Percentage fluctuation in engagement metrics such as time on site, time on pages, and bounce rate
Number and location of links from sites/people deemed authoritative
Number and location of links from sites/people deemed relevant
3.6 Linkbuilding as market engagement
In addition to impactig search resultts, backlinks can and do powerfully impact how the market perceives your business. The benefits beyond search are often obscured in SEO oriented linkbuilding discussions, and often these areas of impact are beyond a typical SEO department's authority within an organization. If you are seeking to drive more backlinks to your organization, it will make sense to learn more about this kind of thinking and be ready and able to discuss it with the appropriate people internally. Here are some ways linkbuilding can help boost your brand.
3.6.1 Build company and personal brand
When your linkbuilding efforts include expert engagement as well as content placement, you have an impact on how your market perceives you and your brand. This is especially true if you have done your research and know which publications in your market exert the most influence on your business prospects. Earning mentions on a monthly basis in the top publications in your market keeps your brand relevant. If you have designed your campaign carefully or if you have worked closely with PR and communicated your SEO needs effectively you can often get great keywords in your anchor text. SERP impact is just a side benefit here, though; it is more about your perceived importance and value in the market.
3.6.2 Build your lead pipeline
We have found that the backlinks we have earned as a byproduct of building our brand with interviews and placed 'how to content' also generate business leads. In fact, log before we saw search traffic, we saw relevant referral traffic that turned into sales. From an SEO perspective, the backlinks we have earned in this manner are all highly relevant, and many of them are from high authority websites in the SEO/SEM space. From a bottom line perspective, these links have been the lifeblood of our growing company.
3.6.3 Engage the expert community and guide conversation
We advocate expert interviews and surveys as a cornerstone of content designed to attract backlinks. If you engage your industry's experts carefully and intelligently, you will see that you can begin guiding market conversations. Guiding conversations doesn't mean being manipulative, it means pushing conversation forward in a way that benefits the market as well as your organization. The benefit of expert engagement is likely that the experts are likely to link to content created through that engagement, as well as be more open to your requests to link to or mention your content in the future. You can usually find a topical forum in nearly any subject, where experts are discussing that subject.
3.7 What to measure in linkbuilding for market impact
Percentage increase in targeted referral trafic
The percentage increase in referral trafic conversions
Percentage increase in engagement metrics, such as time on site, time on pages and decrease in bounce rate
The percentage increase in branded search term traffic
Percentage increase in unbranded search term traffic
Increase in social media mentions, shares and reffering visits
Percentage increase of mentions in target media over competitors
Number of blog posts and articles about or citing your organization
Total number of customers indicating that media prompted their inquiry
The number of third party mentions and community pass alongs
Number of positive responses in conversation thread exchanges
Linkbuilding metrics conclusion
When you track the impact of your efforts in your organic search rankings and beyond, you set yourself up for defensible requests for more budget. Perhaps more important the discipline of tracking enables you to see a clear path toward positive impacts.
4. 10 reasons why every linkbuilding campaign is unique
Every linkbuilding customer wants relevant links to improve their site rankings, website traffic, and conversions. However not all linkbuilding campaigns start from the exact same point.
1. Traffic vs. Rankings vs. Conversions
All customers want to increase their site traffic, improve their website rankings, and speed up their conversions by 100%. Not everyone really consider these three. That's the reason why it's important to define your objectives before you build backlinks. Most customers are oke with getting a backlink on a website that has a high DA or DR even if that site only gets 15 visitors a month because they think that will improve their SEO rankings. There are also some customers who think that any website they get a backlink on should have roughly the same amount of website traffic as their website because it increases their chances to get their backlinks clicked on with as a result a conversion.
2. Competitors
Some customers want to be found where their branche competitors are & some don't. Some like to track everything their competitors do and replicate it. This is a smart, because SEO is all about being smarter than your branche competitors. If you're going to try to break into an industry like finance, it's going to be a lot harder to beat your competitors in the finance industry than if you're trying to rank well with a local plumber or hairdresser website.
3. I want that too
Some customers come to us because they have heard that their competitors are building links. They want it too, even if they don't know why it is important. They have seen a competitor shooting up in the SEO rankings and someone's told them it's because of building backlinks.
There are some different toolsets with a lot of different metrics. As I mentioned before, some want a specific amount of website traffic, and most of them want the site to have traffic from a relevant region with a high DR.
5. Past Google penalties
This is an important one. A penalty or manual action is serious business. Normally I might have been comfortable aiming for 10 backlinks a month for a customer. If they have had a manual action involving backlinks, I would clean things up, wait, and then slowly restart. Those Linkbuilding campaigns tend to move much slower than usual due to caution so results can take longer.
6. Risk management
Some brands or websites do seem to be more immune to more risky linkbuilding tactics. Some sites naturally generate so many organic backlinks a month on their own merit, that even if they bought 30 links a month it might not hurt them. Some sites are new and have a very small linkbuilding profile. That's why they can't handle much risk.
7. Lack of balance
When we get new customers and look at their link profiles. A few backlinks are great but many are average or even awful. When a site trusts on one major type of backlinks such as guest posts, then the link profile looks a lot more unnatural.
8. Bad SEO
Badly done SEO optimization is one of the most common problems, that I face when trying to improve a website's linkbuilding profile. If a customer wants me to build backlinks with anchors that use specific keywords that aren't even mentioned on the target webpages, notice that is a bad thing. Some customers don't want to invest the time in the linkbuilding basics, so they may not even have unique and optimalized title tags or alt attributes. A lot of websites take ages to load. Some sites don't have good navigation. And some websites just randomly delete or move webpages.
9. Internal Links
Internal linking is so overlooked. Very often I ask the customer why that page is important enough for linkbuilding but not important enough to be easily found in the navigation. Most of the time it is easier to rank subpages that aren't five clicks from the homepage. You can make real progress simply by changing internal links.
10. Budget issues
Results can just come down to budget. You can be the most creative linkbuilder ever but you might still not be able to compete with a customer that has a lot more money to spent. We can easily identify some basics to start out a link campaign. We also need an open mind and not think that what we did for the last customer is exactly what we should do for the next customer.
5. Industry competitiveness
If you have five brand new sites that have zero links and they're in five different industries, each one will require a different amount and quality of links (among other things) in order to start ranking well.
6. Linkable assets
Linkable assets are web documents or other digital creations that empower or inform an audience that your target publishers serve. These linkable assets are the in-house experts, information pages, handy widgets, tools, unexpected discounts, valued relationships or custom data that incentivize others to share a link with their website visitors. When you understand what is linkable about your organization, as well as what types of assets earn links in your market, you will have a much easier time identifying your link opportunity types. Knowing these types makes you more effective at prospecting for these types of opportunities. In this part we go deep on the concept of a linkable asset. A linkable asset is content that is so useful that other publishers feel compelled to share it with their audiences.
6.1 What is a linkable asset analysis?
Linkable asset analysis is the process of systematically analyzing your site and your competitors sites as well as noncompeting publishers sites in your keyword space. It helps you to identify what typically earns links and what could earn links but doesn't already. If your site or organization is especially large, this process can and should take some time.
6.2 Linkable assets categories
These linkable assets categories will help get thinking about what your organization's linkable assets could be. Thinking broadly and creatively at the beginning of a linkbuilding campaign or project engagement can open you to a stronger, more effective campaign design.
Do you provide any free applications or web based tools to your site visitors? If so, it is likely that these already attracted links naturally. If you haven't promoted these tools yet for the purpose of linkbuilding, then these assests could help you to develop even more backlinks. Be careful, though, when designing and building a tool or app, they can be expensive can seem to take forever to develop and could still flop. That said nothing demonstrates your expertise like a custom tool you have crafted to make your customers live easier.
6.2.2 Product/Services to give away for donations/contests/review
If you have products or services you can give away, you can earn links through donation thank you pages, through contests, and via product/service reviews from experts in your market. Often this asset is one of the easiest path to developing links. However, it is fairly easy, for your competitors to emulate. Further these approaches to linkbuilding can create enormous and unexpected logistical nightmares, such as shipping and packaging or even getting the winner's contact information from the site conducting the giveaway.
6.2.3 Thought leaders & subject matter experts
Are there existing or potential thought leaders and subject matter experts in your organization? Do they have time to write, podcast, host a webinar or in some other way share their expertise with the market? What about growing their key contributions into a conference presentation? Thought leaders could generate links in the form of interviews, guest posts, and quote contributions to industry news publications. If you have a PR or social media department, linkbuilders should help them to identify linkbuilding opportunities for these assests enable.
Have you created widgets, tools, images or data that publishers of other websites are free to add to their websites? Infographics, embeddable tools, research data, and other types of information created for the express purpose of giving it away is a classic and powerful method for earning backlinks. If you have any of these assets and you haven't aggressively and extensively promoted them, then you are leaving valuable backlinks and relationships on the table.
6.2.5 Partner relationships
Do you have business partners, vendors, customers and technology licenses? Each of these represents a potential backlink in the form of testimonials, published client lists and powered by buttons. Gather a list of your vendors and partners and look for ways to acquire and give link to all of them. Think interviews, link requests for their vendors and partnerpages and updated powered by badges.
6.2.6 Job listings, events and coupons
If your organization consistenly published job openings, puts on events or launches new products, then you have quite a few link opportunities open to you. Colleges and industry vertical sites are sometimes willing to link to pages that feature new job openings. A good example of a linkable page is the company webpage describing the advantages of working at that company. Many cities have event calendars that will publish details about your event and post links on their site for sign up and more information. If you consistenly offer coupons to your customers, you will find massive numbers of coupon listing sites, many of which link back.
6.2.7 Consistent publishing via blog, video, podcast, PDF's and Social Media
Does your organization publish content consistenly? These linkable assets open you to numerous backlink opportunity types from around your industry. Everything from blog, directories, niche, social news sites, and blog lists to PDF submissions and distribution sites. In some industries the fact that your CEO blogs is link worhty and notable in itself.
6.2.8 Budget
Money is almost always a linkable asset, in that if you have the money, you can offer it to another site in exchange for a link. However, the link opportunities that you can purchase are often easy for competitors to duplicate. Further, some search engines aggressively penalize in the form of lowered SEO rankings. Purchased links that aren't labeled or coded as advertisements, making them a potentially risky investment that could end up costing far more in damages than they bring in search traffic. Some sites such as directories, require a budget as well.
6.3 Identifying competitor and other market determined linkable assets
It is also valuable to conduct linkable asset analysis on your competitors websites and organizations, as well as on the websites of your industry's major news and information publishers.
Ho do you figure out what get links?
If you know your primary competitors, as well as the top publishers in your market, then you can use a variety of tools to identify the pages on their sites that have attracted the most links. These pages will help you to get an idea of what your industry thinks of as linkable. Past the url's of your competitors and top publishers into:
Each of these will help you to identify the most linked paged on sites that compete with you in the SERP's.
7. Link opportunity types
Link opportunity types are the kinds of webpages types that are likely homes for your backlinks. It can include sites that accept guest posts-that is, sites that seek and publish content from others. Some linkbuilding experts look for reporters who previously covered a specific topic or business. One of the oldest and most frequently mentioned linkbuilding opportunity types is a directory, which is typically in the business of linking to websites. Links and resource pages are a key opportunity type as well, these are curated lists of web resources often on a single topic.
Linkbuilding goals
The value of understanding your linkbuilding opportunity types ahead of time is that you will be able to build more accurate and descriptive linkbuilding queries, as well as qualify link prospects more quickly once you have them. In this chapter we will outline linkbuilding opportunity types and how to best align the different options with your linkbuilding goals.
7.1 Common linkbuilding opportunity types
7.1.1 Content placement opportunities
The content placement opportunities include guest posts on industry blogs, 'op-ed' pieces on industry news sites, 'how-tos' placed in your industry's association newsletter, even RSS syndication (basically republishing your blog on selected websites with targeted relevant traffic. Content placement opportunities require content, which requires writers – ideally great writers who get your industry and know your subject well.
7.1.2 Company profile listings
Company profile listings occur typically on aggregation sites that publish job listings, company stock information, PDF's, coupons, events (including sales oriented webinars), free web tools (including spreadsheets), free downloadable software and more. We are constantly discovering new aggregation websites and different industries have different aggregated content types. Some sites charge for publishing your information and some don't. Some sites follow backlinks to your site and some add the nofollow tag. Some websites link to you from every page on their site that mentions you and some only link to you from your actual profile page.
7.1.3 Open conversation opportunities
Open conversation opportunities include thing like:
Blog comments
Forum discussions
Question and answer websites
Industry social networking websites
These are places where you can register, create a profile and interact with the community in ways that add value. If you have already created tools and information of value on your site, you can and should direct folks that way via backlinks. Please don't join just to link drop though only join the conversation on sites where you can genuinely become a regular. the asset required here is is subject matter expertise and time. Online forums can be useful places to share your knowledge and links to your asset.
7.1.4 Editorial mentions
Editorial mentions are links that occur in the body of an article. We are referring here to backlinks that are earned either through merit or persistence, rather than through monetary payment. These can occur in reviews at industry news sites, direct content citations from other how to writers, discussions of your company's news sites or blog statements, and even in content you place. These types of backlinks will all be earned through relationships you develop with the industry expert publishers in your market space. When a website includes a backlink to you within their editorial content, it is considered a trustworthy link.
7.1.5 Directory listings
Similar to company profile listings, directory listings are common opportunities across industries. The beauty of directories is that typically they are relatively easy to acquire, just add your company's information. That low barrier of entry is also the problem with directories. However there's no reason to turn up your nose at them. If you can find a few decent industry or geo relevant directories, you should acquire those backlinks.
7.1.6 Resource Lists
Resource lists come in many forms. Sometimes they are on library websites, and sometimes they are tucked away on long forgotten university web pages. Sometimes they are in the form of massive resource aggregation sites (almost directories) and sometimes they get published on a weekly basis in the form of a roundup. If you have created and continue to create expert resources for your industry, then you should pursue this opportunity type. Often overlooked by linkbuilding people, many public libraries offer topical link resource lists. These can be very useful backlinks to obtain.
We have not sought experience in purchasing links. It is our understanding that the best purchased backlinks are those that are difficult for search engines and competitors to detect and that come in the body of highly relevant and high quality SEO writen content. Avoid sites or discuss SEO and definitely don't by links on websites that advertise the sale of baclinks. Sponsoring events or organizations can earn you the appreciation of your market, spread your brand and drive direct traffic.
7.2 Linkbuilding opportunity types: conclusion
Knowing the range of link opportunity types gives you a sense of directions your linkbuilding campaign could take. It is just as important, though to research the market you are in to learn what types of opportunities are most prevalent.
8. Linkbuilding opportunity analysis for a keyword area
Knowing what link opportunities exist for a given market as defined by its keyword space can go a long way toward helping you design a linkbuilding campaign. This chapter provides some thinking and process suggestions for linkbuilders trying to understand, or inventory all the link opportunities for their market.
8.1 Knowing your market defining keywords
Market defining keywords are the keywords you will be using throughhout your link prospecting and market research. They are the big head keywords in your industry that will bring lots of traffic but few sales.
Seven guidelines to define market defining keywords
Here are seven simple guidelines for determining your market defining keywords:
Probably not converting keywords
Words the market or participants use to describe itself/themselves
Single or two word phrases that are very crowded and competitive in the SERP's (not many ads targeting them)
Keywords you would not typically target with a pay per click campaign
A root extracted from your PPC/SEO keywords
Common names for the practioners within your industry (what are the experts actually called?)
Words commonly used in the names of publications within your market
8.2 Design queries for each opportunity type
Once your market defining keywords it is time to create queries and search for them in your favorite search engine. Following are a few ways you can do that.
8.2.1 Look for blogs, news sites and trade publications
The existence of blog's, news sites and trade publications are all indicators of a healthy expert publication status within your market space. If these kind of sites exist, especially in large numbers, your campaign design can and should include expert engagement and content creation and promotion to name a couple. Check for these kinds of publishers with queries such as:
Market defining keywords blogs
Market defining keywords blog list
Top market defining keywords blogs
Market defining keywords news
Top market defining keywords trade publications
Market defining keywords conference or convention
8.2.2 Look at niche directories
Niche directories are almost always worth submitting to. Consider them a covering your bases linkbuilding effort. Some keyword spaces have niche directories and some don't.
8.2.3 Look for interviews with subject matter experts
The presence of interviews signifies there is an expert class within your keyword space. If there are a number of interviews then you should do two things. the first is to get thought leaders in your organization interviewed. Second you should conduct a group interview of all the experts who have received interviews. Gather the experts contact information, then brainstorm five to ten great questions and send them out. When they have responded, aggregate their answers into one article and let them know when it is published.
8.2.4 Look for niche forums, social networking sites and Q and A sites
What is the online community like in your keyword space? Remember there are hundreds of thousands of people perfectly happy with forums as their platform for web interactions. Find them! This will help you determine whether it is worthwhile to put resources into online conversations.
8.2.5 Look for professional associations
Professional associations indicate a high level of business organization within an industry. Many associations have online newsletters and publications to which you can submit content.
8.2.6 Look for company profile listing opportunities
Company profile listings often earned through submitting specific content types to aggregation sites are a fairly simple way to build links. There are usually paid and unpaid opportunities.
8.2.7 Look for resource curators
Resource curation has until recently been the task of librarians. These days it is far more likely that industry experts participants and publishers will build lists of resources either on a one time basis with continual updates or on a weekly or monthly basis in the form of roundups. We have seen some resource aggregation in the form of exhaustive how to's that link out to the best industry tools and information as well, so be on the look out.
8.2.8 Look for content placement opportunities
Guest content placement has been the work of the PR department for years. Times are changing, and it is up to linkbuilders to help lead the company toward content placements that will improve rankings, sales and brand recognition.
8.3 Analyzing your results and simple recalibrations
When you are querying your keyword space to get a sense of the overall link opportunities that exist, one simple, though imprecise, way to compare the relative opportunity size is the number of relevant opportunities in the top ten results. The problem with this method is in the queries themselves – though we use the queries mentioned above, many spaces have different words and variations for their different opportunity types. That brings us to recalibrations. Try creating your own substitutions and explore the new opportunities. Once you have gotten some direction from your market defining keywords and the actual publisher opportunities that exist, it is time to move onto link prospecting.
9. Link prospecting
Link prospecting is the process of discovering potential websites for engagement from which you hope to earn or otherwise acquire links to your site. Link prospecting takes many forms and can be as simple as a quick search engine query or as involved as downloading hundreds of thousands of competitor backlinks.
9.1 Link prospecting methods
So far we have summed up the soft side of the prospector, but people and strategy skills are only part of the job. Knowing how to find thousands of relevant opportunities calls for some pretty specific technical understanding as well. Finding link prospects is one of the core problems of linkbuilding. And typically the problem isn't finding enough prospects. You can easily find hundreds or even hundreds of thousands of prospects by cracking open link index base of for example Majestic and exporting competitor backlinks. The problem typically lies in finding link prospects that represent opportunity types that are lined up with your linkable assets. Link prospecting queries remain one of the most versatile and powerful tools for link building.
Linkbuilding prospects queries
A link prospecting query is a combination of keywords and advanced search operators that help you discover sites that are likely to link to a page on your site. Link prospecting queries are highly flexible ways to discover link prospects at large scale and are a fantastic way to quickly determine the quantity and quality of link opportunities in a given keyword space. Linkbuilding prospecting queries work because link prospects often have a common footprint in the content of the page or even in Url itself. Discovering these link opportunity footprints are paring them down to only a word or two is the essence of link prospect query design. The chief advantage of linkbuilding prospecting queries is your ability to align queries to discover only the linkbuilding opportunities that relate to a linkable asset.
9.2 Seven types of keywords for linkbuilding prospecting queries
9.2.1 Market defining keywords
Each market uses particular words to describe itself in market defining keywords. What words does target your audience use to describe your industry?
9.2.2 Customer defining keywords
Customer defining keywords help you discover prospects that are geared more toward your target audience. Knowing what your customers call themselves and how they refer to fellow group members will help you discover some great prospects.
9.2.3 Product/category Keywords
Product or category keywords are the high end and mid level terms that describe what you sell. They are useful because they can help you uncover prospects that could otherwise go undiscovered.
9.2.4 Industry thought leaders
Industry thought leaders or subject matter experts help you uncover public relations and interview opportunities in your space. If you are looking for market experts, search for books, because they often write books. You should also check Youtube for any relevant videos. Once you know some of your industry's thought leaders you can look for people who will respond to interviews (so you can interviews them and add the content to your website), as well as people who conduct interviews as you can pitch your inhouse experts. Furthermore you can poke around in forums and see if any thought leaders have participated there.
9.2.5 Competitor company names
Competing company names are wonderful little footprints to track. They can show you a great deal about how your industry´s reporters and bloggers treat companies similar to yours. Competing company names are useful in ways similar to the names of industry thought leaders.
9.2.6 Geo keywords
Geo keywords help you discover link prospects that may impact your local search rankings. Geo keywords can include things like:
State/province
Region
City
Neighborhood
Zip Code
Related or adjacement verticals are industries in your ecosystem that could potentially aid your prospecting and outreach efforts. These could be your suppliers and customer industries, perhaps.
10. List scrape prospecting for linkbuilding builders
Never fear link prospector, there remain deep wells of link prospect opportunity, even if you have queried every last prospect from Google and snatched every last link from your competitors backlink profiles. If you can make the right offer and have a team ready for outreach, then list scrape prospecting could add a steady stream of powerful links to your portfolio.
List scrape link prospecting
The process of list scrape link prospecting is simple:
Find lovingly crafted list of websites (list hunting)
Brainstorm a valuable , relevance pitch (the only hard part)
Scrape the lists and contact information, removing any nonprospects
Outreach using the pitch you designed in point 2 to sites with available contact information
In hunting for lists it is best to let Google's suggest function do the thinking for you. Try searches like 'list of websites + subject' or 'list of blogs + subject'. And repeat the searches with keywords like directories or resources.
11. Qualifying link prospects
This chapter investigates both automated and manual ways to qualify link prospects, once you have gathered them for a project. We recommend you use automated methods to focus on easily measurable factors to cull the list to a manageable size. The manually review the list to further qualify and highlight the best link opportunities for the proper segment of your campaign.
11.1 Qualifying link prospects based on avaiable metrics
The first place to begin attacking hundreds of thousands prosprects is with any readily available metrics. We suggest using the following Google Chrome extensions:
Data scraper – Easy web scraping
Web scraper
11.2 Keyword occurences in urls
If you have copied and pasted your list of link prospects into a spreadsheet program, one way to determine relevance is to simply search for your market defining keywords and potentially keywords associated with the linkbuilding opportunity type in the url's themselves. Any url's that contain the keywords should be set aside for a manual review later.
11.3 Authority or hostname or url
Page rank remains the simplest, quickest, most scrapable metric for freely assessing the authority of a Url and its host name. We don't practice or preach chasing high page rank links, but we firmly assert that you can make broad generalizations about a link prospect dataset based on PR. If you have sourced your link prospects either from linkbuilding queries or competitor backlink data, them sorting your list in descending order of hostname PR can help you immediately spot the strongest, most authoritative websites for potential outreach. Other authority measurements are available from other linkbuilding prospecting tools and can be used to sort in much the same way.
11.4 Inbound link count to host name, inbound link count to url
Like pagerank the number of backlinks a website has can be easily manipulated and should never be a sole decision point for whtether to establish a relationship with a site. And like page rank if your linkbuilding prospects have been prequalified with queries or backlink co occurence, then inboundlink count become a more useful number. In addition to helping you make decisions about which sites to approach for engagement, inbound link counts to nonhost name url's can help you identify content to which your market responds well.
The SEO toolbar for Firefox also enables you to quickly pull data points, such as the number of times a domain has appeared in Twitter, Facebook and other Social Media Marketing platforms like Pinterest. these metrics are strong signals that the site owners are active social media participants and may have developed a following. These sites should certainly be a aside for further consideration, especially for content placement, interviews and new related engagement.
11.6 Link opportunity qualifiers
This list should help to get your brain turning regarding metrics and methods for qualifying your link prospects, whether your automating your qualifying process or doing it by hand and looking at each site individually.
Keywords appear in target url
Keywords appear in target url title tag
Keyword appear in H1 tags
Keywords occurrences in body text
Keyword occurrences in meta keywords and metadescription
Number of outbound links on target url
Number of inbound links to target url
The number of inbound links to domain
Followed and non-followed outbound links
Competitor url's
Excessive Adsense placements
Pagerank of URL
Page rank of domain
Domain age
Page type
Number of comments in comment threads
Inbound links from news sites, edus or govs
Inbound links from blogs and other sites within your prospect set
Forum signature inbound links
Inbound links from niche/industry news sites
Inbound links from industry groups and organizations
Social media inbound links
Social media/industry group badge outbound links
Page type (blog, review, page, links, page etc)
Is there a considerable relevance between the page and the page you are building links to?
Is it a previously unidentified competitor?
Are there excessive ads?
Is the text human generated?
What motivated the current links on the target url?
Recent posts, recent site updates, updated copyright date?
Does the text look correct in grammar and spelling?
What is the design and image qualify?
How thorough and well tended does the resources/link page seem?
Is there more than one link page?
What was the last update?
Is the site owner easily accessible by e-mail or phone?
Is there a comment box?
What is the quality of comments and conversation there now?
Does it contain discussion related to your product or service?
Are there Q and A forms on the site?
Does it have strong content?
Does the website have editors?
Are there backlinks out to other known influencers?
Does the website contain written reviews?
Does the website include and e-mail newsletter?
is there an in the news section?
is the person's name in the url?
Will it be an industry analyst consultant site?
Will it be a niche industry news coverage site?
Does it have a robust commenting community with a great deal of response?
is there writing about recent industry news and developments?
Obviouly attends conferences?
Does it use multiple media formats?
Have you seen this url on multiple blogrolls?
12. What is link trust
On the web where engines index url's by the billions, signals of trust, merit and intent of source will be crucial to any search result, including a personalized search result. Signals of trust, merit and intent of source can be determined in a couple of ways with an algorithm that looks at on site or off site signals, or without an algorithm at all, using offline factors. So links, citations, inclusions and connections along with confidence, inrent, credibility and veracity aren't going anywhere because what other signals are there? Seriously if you had a billion dollars and wanted to start a search engine, what signals will your big fancy algorithm measure in order to produce useful results?
Bulletproof Linkbuilding tactics
What's likely true is the sources of all signals are getting more and more algorithmic scrutiny and end users play a larger role in this process in many ways. The links you depend on for both traffic and rank better be bulletproof and not a house of cards waiting to crumble. If your linkbuilding tactics and targets have not been wisely chosen, the day will come when you will not be happy. The value of certain types of backlinks cannot be underestimated. Why? Because they are so hard to get and are based on a decision made by a person who is a passionate subject expert.
12.1 Signs of trust
What signs do you look for when seeking a good link target site? The generic answer is that a linkbuilding target will be different for every site you are seeking links for. The specific answer is, Let's say the site you are seeking backlinks for is devoted to everything about the history of jazz music. An example of a high quality and trusted target site would be a university library database that contains a page full of links for jazz music research.
12.2 How to get tier one links
Tier one links have an incredible high value. CNN, New York Times are just a few of the sites that fall into this bucket. That's they are news organizations that fit the parent test: publications you could mention to your parents that they had imeddiately recognize. In quantitative terms, these are normally sites that fit in the upper 10 percent of the link metrics of your choice. In this section we will get into the process and give you the toolkit to generate tier one links placements.
12.2.1 The requirements for success
While it is true that relationships help you to get more tier one placements, they aren't required. That said, there is a general set of standards that this type of publications look for. First the company the story is coming from must be credible. If you run an affiliate site with no LinkedIn, a shoddy looking website, and no noticeable backstory, that immediately creates pause with a reporter. If they are running your story, they want to feel confident it won't come back to bite them because of an insufficient sample size, sloppy data or a poor source. You can still generate links if you are the one of those businesses, but for the most part it is recommended to avoid doing so if tier one is a strategy. Building a business that's credible to the press is a similar path to building a business that's credible to users, so it is worth pursuing even if press is not something that immmediately make sense for you.
Newsworthy content
Next the content being generated must be newsworthy. In general you need to be saying something absolutely new to be covered by the news. CNN is not going to cover a beginner's guide or a resource page. Therefore you need to generate something breaking. there are several routes for doing this in the traditional PR sense, such as raising a round of funding or launching a new product. However for the purposes of this discussion, we will focus on creating press coverage from scratch rather than something likely outside your control as a link builder.
Survey content
When generating something breaking the focus must be almost entirely on generating survey content, because it is the easiest way to create news from nothing. Consumer surveys allow you to ask different types of questions of the public. These questions lead to interesting insights about how people think, which can then be sliced and diced into different demographic segments. Hopefully you can illuminate interesting tidbits about the world and drive reporters to want to cover it.
13. Analyzing market pains to create linkable content
This chapter expands on the warning 'be helpful, promote link prospects, but don't always be the platform for others to tap dance on'. You have also to demonstrate your expertise – you have to add your own unique value and voice to the conversation. This chapter will help you identify what kinds of content you should be creating to not only attract links from your prospects, but to also get some conversations with your content.
13.1 Content is King
Fresh and up to date how to content has and will have external appeal in a market. That's what makes it the standby for the linkable content creator. How to content guides readers through a process for achieving a specific goal that is relevant or related to the target market. It is through this type of content that linkbuilders establish your company's experts as thought leaders and people of influence. This content travels in all sort of media wrappers, from PDF's and podcasts to videos and tweets.
Content which solves market's pains
Effective how to content solves a market's pains. If you are already familiar with your market, you probably know the core pains. However you will still be surprised at pains you weren't aware of if you conduct a pain point survey. If you are new to a market space, then this survey will be invaluable. Some tips to help you are:
Look at your market defining keywords and combine them with 'how to, advice, tips, process, tutorial, about, recommended, recommendations, tricks, basics, guide, definitive guide, hints, what you need to know, ideas'.
Also combine the keywords with 'article, books, video, podcast or PDF'. Focus and concentrate on titles only.
Make a pain point analysis
Identify the top publishers in your market
Analyze the top publishers most linked pages
13.2 Linkable content can generate conversion too
In a perfect world which you as a linkbuilder should be striving for, obviously linkable, shareable content also generates conversions of some fashion or other. Whether newsletter subscribers, ebook downloads, ad clicks or even sales, your linkable content should be moving folks along a funnel. The great part is though, if your linkable content can convert, you know you are generating relevant content. There are some linkbuilders who specialize in irrelevant linkbait. it attracts links and impacts SERP's, but chances are good that this impact won't last forever.
Value interactions with your brands
If every link you can earn brings in targeted traffic to content that leads folks along a funnel toward increased value interactions with your brand, then you are way ahead of the game. SERP impact is your gravy. The good news is that all your how pain point and linkable content research has prepared you with a massive list of topics and potential titles. Your job now is discovering how to work with your company's brand and buy cycle into the topics. Here are some types of conversions you can drive with content:
PDF downloads
Newsletter sign-ups
Community sign-ups
Free tool usage
Webinar sign ups
Social follows
RSS subscriptions
increased time on site
Sales
13.3 Engaging your internal thought leaders and subject matter experts
Unless you the linkbuilder, are your organization's subject matter expert, you are going to have to work with the folks in your organization who are. Content that enables an audience to gain access to these subject matter experts is more likely to result in links. Primarly you will be engaging them with interviews, though if you have a strong team willing experts, and the blessings of the management, you could have them write or assist them in writing – the pain based linkable content you have identified. Furthermore your organization's subject matter experts may have already developed their own online platforms. And if your CEO is already on Twitter, by all means ask him to tweet about your latest guides.
14. Linkbuilding acquisition
Linkbuilding acquisition is the proces of conducting outreach designed to induce people or sites to publish links to your content without paying them. Link acquisition is sometimes referred to as link begging, but this is a misnomer. In effective linkbuilding acquisition, you always illustrate the value of your linkable asset within the context of the needs of the publisher's target audience. Our most effective linkbuilding acquisition e-mails typically don't even use the word link. In this part we will cover how to set up and choose the apprepirate terminology for your pitch.
14.1 Designing the pitch
The first and most important stage of link acquisition is in your pitch design. Effective pitch design also relies on a thorough, linkable asset inventory and effective link prospecting and qualification. You have a list of prospects but do your know which of your linkable assets lines up with their interests, audience and editioral agendas? For scalable and effective linkbuilding campaign, we recommeded that you organize the linkbuilding campaign with your inventory of assets in the core. The more relevant your asset is to the prospect, the higher your conversation rates will be.
14.2 Suggesting mentions or sharing instead or requesting links
The word link has gotten bad connotations of late. You have to remember that publishers not only get bombarded with link exchange spam, but there is Google pushing the 'nofollow tag'and threatening to end a website's supply of organic traffic if that site does any unnatural linking. No one wants to link. They want to share valuable content. They want to be the conduit for someones's life changing epiphany. They want to earn still more trust and adulation from their readers. Asking for a link just mucks up their thinking about this goal and makes them suspicious of your true motives. Therefore we recommend in most situations involving content promotion that you stay away from the word 'link'. Use words like 'share' or 'mention'.
14.3 Sending your e-mails
Clicking on a link request e-mail is an exciting and terrifying moment. It is worth listening to your gut instincts the moment before you send an e-mail because it may lead you toward a stronger pitch. Either double check their name their sites name or something along those lines or think of a way to bolster your pitch.
E-mail mistakes
Here are some mistakes we no longer make in content based outreach for acquisition:
Wrong name
Subject lines that don't entice
Wrong site name
Misspellings in subject lines
Poorly worded or confusing interview questions
Too many interview questions
Contacting sites that sell links with content oriented outreach
Cold outreach without preciprocation
Not aligning backlink prospects with linkable assets
Requesting homepage links from expert publishers
Using the word link
14.4 Acquisition tracking: keeping tabs on your efforts
Depending on your specific goals for outreach, there are many things you can and should track. We created an outreach spreadsheet that contains the following tabs. This is a good startingpoint for your brainstorm regarding what you will track.
Targeted hostname / link page
Contact's name
E-mail address
Date of first contact
Backlink placed yes or no
Date of follow up
Url of placed backlink
Date link placed
Linked url
Anchor rext used
Site type
E-mail subjec tline
Opening line
Offer made
Growing the relationship
Twitter Address
Notes
14.5 Applying principles of social psychology to linkbuilding outreach
Have you ever done something you didn't really want to do simply because someone else asked you to, like buying something after being persuaded by a pushy salesman or agreeing to going out after receiving a group Whatsapp. Those are two examples of what is known as compliance. In the field of behavioral psychology there are many different strategies linkbuilders use to obtain compliance from others.
One strategy that can apllied to linkbuilding outreach is the foot in the door technique. The theory behind this technique says that agreeing to a small request will increase the likilyhood of agreeing to a second larger request, as long as the big request is consistent with or similar in nature to the small request. Regardless of the formula the key to making our small request is always the same: Your subject line must clearly state what the e-mail is about. Any recipient who clicks on it is confirming that they are interested in learning more about your message. At the point, , you will have your foot in the door and the big request of linking to your site won't seem like such a crazy request.
14.6 Subject line formulas for different types of linkbuilding e-mails
Most often than not, sites that accept guest writers will specify how they prefer new guest posts to be pitched. If the site you want to contribute to has a dedicated page or section about guest posting opportunities make sure to follow their guidelines.
Before reaching out to a website about broken links, make sure there's someone on the other end who is responsible for the site. A broken link can also be an indicator of an abandoned website.
Link reclamation (brand mention). Always read the context in which your brand has been mentioned in order to avoid contacting someone who will not only refuse to link to your website, but also could get upset with the request. An example could be someone who has written a negative review of your company on their personal blog. In such cases the best practice is to flag the review for your customer care department and avoid reaching out to request that a link be added when mentioning your brand.
Link reclamation (Content Marketing) Much has been written about link reclamation as a linkbuilding strategy. There is less advice about the technique in combination with other off page SEO efforts such as content marketing for backlinks. For teams who build links with content, I always recommend that they add a layer of link reclamation to their campaigns to maximize the number of links.
Resource linkbuilding: The subject lines for this type of linkbuilding will highly depend on the type of resource you have built. Two subject lines are suitable: Suggestion for name of resource page. New resources for resource page.
Round up inclusion: Many bloggers and journalists publish weekly and monthly round up articles where they handpick resources and content connected to a specific topic. You could send them an e-mail to ask to include your linkable asset as well.
15.Building links with guest posts
A guest post is an article written by you, that is placed on someone else's site. PR professionals call this a bylined article. SEO experts or consultants like guest posts because they enable links to very targeted pages, namely sales pages that contribute directly and immediately to revenue. A guest post campaign occurs when you increase the scale of the processes required for a single placement of a guest post.
Be cautious with building backlinks
If you are manufacturing outbound links particlarly via guest placements on third party sites – your work must bear potential scrutiny from Google's quality raters, not to mention your peer competitors. How you build backlinks to your own or client properties as well as other supporting resources – matters tremendously. And how you link out is about more than just Google and your competitors.
15.1 Citation justification
This section explores circumstances where citations are required academically or journalistically and where citations feel right. It closes with a checklist we recommend for the content that you intend for off site placements.
15.2 Required citation circumstances
These are the instances in which you absolutely must include citations, both to honor the work of others and to boost your own echos as a purveyor of information:
Data or findings: a recent study shows…
Direct quotation of a source: According to expert individual or organization, brand …….
Indicating the source of a summary of key concepts, philosophy or approach….
Further, fuller, supplemental resource on topic (for more information visit…)
Embedded material credit (image/graphic, video from)
Defining jargon and industry terminology for the layperson (definition)
Indicating the source/discover of a fact
Indicating the development of course of a concept as it gained acceptance/adherance.
15.3 The spirit of citation
In some cases you want to give credit where it is due not because you have to, but because you want to. Some of those instances include:
Gladly giving credit where credit is due: respecting the elders and authorities of the practice, and acknowleding the shoulders of giants
Giving credit because the author was inspired in some way by the document/document's author
Each link out establishing and anchoring an overall assertion that leads the reader to a desired healthy, safe action or mindset
Enable or speed task completion of a task that's associated with the article but not directly required
Call out the linked document's authors by name because they are awesome – expressing gratitude, connecting readers to larger practioner community
We don't have enough space to fully dig into the topic – here is more
We got the spark of an idea for syz from this document
A funny, fun or inspiring aside
Why or sarcastic aside, supported by a related document
SEO citation justification checklist
So we hope that list gets you more in the mood to link out. And better able to conceive of methods that will actually benefit your readers rather than just your search rankings. Citations can provide a fun interplay between the author and reader. We will leave you with a return to the practical side. Here are some of the questions we ask about every document we create for placement.
Checklist:
If we remove this link, will the article's utility or pleasure to the reader decrease?
Have we indicated to the reader how the link adds utility or pleasure to their lives?
Does the anchor text help the reader understand the cited document?
Can the text near the outbound link thank or call out the linked document's author or brand in some way?
Is the reader alerted that there is a backlink, and why and when they should follow it?
Is the backlink academically justifiable/required in some what?
Does the linked document genuinely support a position or the completion of a task related to the article?
Do we link out consistently within the article, supporting all the key assertions, not just the one related to our site or client?
15.4 Building backlinks to sales pages
Sales pages whether they sell products or services, lack citability. In other words there is a rarely a justifiable reason to cite a sales funnel page from a guest placement r any other tactic you may be using. This section closely follows citation justification for a reason. As you strategize your way forward, you must think carefully on how an off site writer would conceivably justify backlinking to your sales content persona the off site writer whose job it is to inform and delight audiences while citig your documents.
15.5 Building citation worthy elements into your sales pages
Linkbuilding to sales pages becomes increasingly viable when you add what we call citable elements to the page. The balance between sales and citability is a delicate one, though. If you do pursue this course, it is likely you will use anchor links to help tuck these elements beneath or beside the funnel and still be able to send the visiting reader directly to the cited element that supports an assertion in the placed article. There is also the concern of skewing the page´s topic as perceived by search engines, which could potentially diminish SEO rankings for targeted terms. Again, there is a balance that will require discussion and debate across several stakeholding teams.
15.6 Creating citability
So, how do you create citability on your sales pages to justify including backlinks from off site writers? Here is quick list to get your brain going:
Data or findings: Any data you publish to a sales page is first and foremost ideally yours and yours alone, derived from your findings as a business. Also the data ideally fits into the flow of purchase decision by your customers – namely it supports and justifies your product or service within the task accomplishment cycle of your target customers. Your bussiest or slowest times of the week or day? Times when you have the most or least inventory? Most popular color or size? These types of data points can be woven nearly into off site content.
Direct quotation of a source: A source here could be a customer use case story or a brief interview with your internal experts that provide some new insight into effective task completion in the context of the product or service. Marketers typically want products and services to be the hero on the sales pages, but for linkbuilding purposes, you are better off letting the customer or expert shine a little brighter and give off site writers something gripping to quote that illustrates concepts or inspires a redoubling of efforts.
Defining jargon and industry terminology for the layperson. A sales page may not be the spot you would typically think to drop some definitions. That said if there is any dense or even slightly obscure terminology related to your page's, products or services, then you would conceivably benefit your customers by defining them. You should also have a proper glossary, but that´s a whole different article. Defining words remains a highly justifiable reason to link out.
Pricing guides or generalized pricing information: In much of the online how to pub lishing space, opportunities to cite pricing information abound. Most tasks require materials or services to complete, so how much should these things cost? Pricing remains top of mind with consumers, no matter where they are in the buy cycle. Any information that helps contextualize or convey the parameters that impact cost can serve as a highly citable page element.
Images, videos, widgets, downloads: Could your sales pages benefit from some infographics? Are you already using graphics to sell? Got case studies and sales PDF's? Great! Think beyond your sales funnel into elements that could illustrate task completion or service execution best practices outside the context of sales.
Detailed multi faceted metrics based reviews. Reviews remain highly citation worthy so long as they can fit into the task completion ho to narrative that most publishers churn out. Even better facet out and metrically rank the benefits of your products to different audience segments. How much compression do these socks actually provide? If you happen to work with any off site writers, check in with them on audience facets for whom you could provide more thorough insight. Seniors, parents, pet owners, fitness buffs, and other mundane sufferer categories have large bodies of corresponding publishers.
Tips/advice directly related to products/services on the page: Can you enable or speed task completion for a goal that's related to your products or services? Just good, old fashioned how to content here, but with your products or services as central to the context of the information. So on your dogs chew toy page, you have some key detail on helping your dog to stop chewing your furniture. On your plumber page, you have a simple step by step guide to unclogging a drain with baking soda.
The origin story: Talk with the designers, manufactures, artists and whoever else helped design or perfect this product or service. The origin itself can be highly citable, and it's almost certain that the story will have citable internal elements as well. Inspiring the audience to reach higher and try again remains a highly justifiable citation purpose for off site writers.
Supplemental outbound resource links: Who had put outbound backlinks on a sales page? Well what if they somehow served the purchased cycle? Still probably no, I know but they would be highly citable, especially if the on page sales narrative included something like "we collected these resources based on client recommendations and questions related to our products."
15.7 Know your audience name
It is increasingly common to speak with linkbuilders who target a specific audience. That said, most have specific keywords in mind that they want to rank for, and most use those keywords for discovering opportunities. To best gauge the viability of a guest placement campaign, you must first translate your target keywords into a target audience. Let's say your cliënt wants to rank for webhosting, and they specialize in hosting for small online business owners. Starting from their target of small online business owners, you can parse out some potential audiences. This can be done in part by thinking like a directory and determining which categories a resource for small online business owners could fit into. It is well worth visiting a directory to help the brainstorming proces for example:
Small business
Online business
E-commerce
Webdesign
15.8 Gauge the quality of placement opportunities
Quantity is not all you need to look at, especially if you have your eyes on branding and reach. Here are some thoughts on gauging the value of a guest posting opportunity:
Copy and paste the title of a two week old article and search for it in quotes. Where does it appear? Are there scrapers, is the title in Twitter, does the site syndicate their RSS feed? This will give you a bit of insight into how wide the reach is for a given publication.
Check how many tweets, shares, and articles get on a site – this will show you the social reach that the publication has developed.
Check the quality and quantity of comments to get a sense of the community surrounding the site.
Does the publisher aggressively link fro within the article to their own pages? Check for it – it's common and could affect the SERP impact of your efforts.
Scan their backlinks – are any recognizable sites linking in? This will give you a sense of who's reading and linking to the publisher.
Are guest posters using exact match anchors or brand names? This can be an indicator of site policies.
Do they require an ongoing content commitment? This can indicate a strong editorial hand, which usually means a higher quality publication.
In investigating these items , you will get a sense of the characteristics your content will need to have to make it placeable.
15.9 Quantify the level of expertise in existing guest published content
Now that you have your targets, it is time to figure out what level of subject matter expertise you will need to meet your audience's information needs. Finds out how readily available subject matter expertise is – are there forums, books, PDF's etc.., that you can use for research? Often there is a strong content demand, as exhibited by the presence of write for us pages, there is a ready availability of prepackaged expertise you can research and cite. If you are planning to go big, it is also worth investigating how much or how little tip based content exists. Note that you can use your audience keywords in your tip search as well.
15.10 Gently cross examine the client before signing that contract
Guest placements certainly build links, and that's often what SEO experts are interested in the first place. However if you are publishing on the right sites, with the right content, you can begin establishing expertise within a given category. To really deliver for your cliënt on this expertise building, you will have to get access to the client organization's subject matter experts and get buy in and sign off.
Cross examine
Here are some questions to ask before you get that contact with a new client signed.
It perceived brand expertise really a factor in the purchase decision?
How involved can the client be in content ideation?
Are there experts available for interviews?
Does the client have published expertise (tools, PDF's, presentations, video's) that is suitable for promoting within guest placements?
Is there unique data available relative to the client's market that can be published?
Who has to approve content in the client's organization?
How active is the client in social media channels and do they intend to increase this activity?
Whose name will be on the placements?
Are there any do not contact publishers operating in your prospective client's marketing defining keywords space?
15.11 Outreach
Outreach has many moving parts and a great deal to track in order to remain effective, efficient, and protective of the brand. Before digging into specific advice, here are several core elements to track in your campaign.
15.11.1 List of outreach prospects
If you have 10 posts expect to need 100 different guest placement prospects
15.11.2 Specific niche focus
This is vital so that you can be sure you are pitching the right flavor of article to the appropriate blogger within a topic area and SEO are two marketing methods, you shouldn't pitch your e-mail marketing tips article to the SEO blog. Ofcourse you need the prospect contact information and or contact url. And you need to think about the anchor text and the promotional link target.
15.11.3 Content details
List of completed content titles. This is your master list of guest content inventory. This is what you are selling with your outreach emails.
Specific niche focus of piece. This will help you pitch the right titles to the right publishers.
Content status for individual articles. use terms such as written, in consideration, pending and placed to track content status. Written needs promotion, in consideration means a publisher expressed interest and has it in their inbox, pending means the publisher said yes but has not published and placed means it is live on their site.
Domain of prospective publisher. replace with final published URL.
Date of initial contact. use this to track to which sites you have already outreached.
16. Creating broken links linkbuilding campaigns
Broken linkbuilding is one of only a handful of highly scalable and white hat linkbuilding tactics. With this tactic you check your target website's outbound links to see if they are still up. If you target website's outbound backlinks to see if they are still up. If your target site links to a competitor's information page that 's dead, you then e-mail the target site and suggest they link to you instead. In this chapter we will cover the process and the tools we use and recommend to get the job done.
16.1 Search for link pages
You guessed it use your link prospector for this, prospecting phrases that categorically represent the topic area you are promoting and plug those right into the tool. If you don't use the link prospector, you could try the prospecting queries mentioned here, as well as tildes, lots of tildes. What you are looking for are curated links pages where your content could fit with light scrutiny, whether you found a broken link or not.
Long form content
This of course, presupposes you are promoting good quality, long form content for which there are hundreds of curators. If you search and each of the top ten pages are good prospects, then you are in a good space for this effort. SEO's used to got through hundreds of pages and pick only those they thought had the highest relevance. Now they rarely spend much time qualifying links pages. they rely on out our tools and common sense and just pass a big ol of batch of linkpages right on over over to the next step.
16.2 Check the status of each outbound link
Once you have completed extracting outbound backlinks from the resource pages, it is time to check the status. And, yup we have got a tool for that in the scraper suite – the url status checker. This tool checks and reports on the status of each url, just as the name suggests. This tool does split large sets up into batches of 1000.
16.3 Recheck the status of each dead backlink for final verification
Recheck because the tool is not 100 percent accurate, and it's heartbreaking further on in the proces to think a site with 30.000 unique linking domains is dead when really it is just responding slowly. So recheck everything that the tool reports as dead. Some people, whom we will refrain from naming, check three times when feeling expecially obsessive.
16.4 Gather metrics for the dead / unresponsive pages
Use a tool like Majestic for learning which dead Urls' have the most linking domains, though they limit you to checking only 300 rows at a time.
16.5 Broken link outreach
Much has been written about broken linkbuilding, so let's keep things short. Tell your contact where the broken link is and provide code for fixing it. Mention only one dead link on the page. Be pleaced with a 5% conversion rate.
17. The Linkbuilding Guide
Let's get started with a cold, hard fact, Google does not want you to buy links. If you do buy backlinks, you should add a nofollow attribute to the link, or you will be in violation of their guidelines and subject to ranking penalities or even de-indexing. Despite this very clear rule and stiff penalties links are still bought and sold all the time.
17.1 Why buy backlinks?
My personal reason for buying links is that you get what you pay for. If you want specific anchor text or a link pointing to a specific page, you can get it. Customers want to buy backlinks for many different reasons:
They are convinced their competitors are buying links and they want to keep up
They are in a boring industry and don't have great content or a lot of linkable assests
Unable to naturally attract links
Customers need links to specific pages that don't get many links
Is a paid link a bad backlink?
There is also the assumption that a paid link is a bad link, and I don't believe that at all. There are bad paid links just as there are bad free links. If you take shortcuts and buy every link you can, of course, that's going to go poorly. If you approach linkbuying with the same care you had take if you were performing outreach in order to get good free backlinks, then you will get good links.
17.2 Staying safe as possible
The most critical aspect of participating in a link buing process is staying as safe as possible. While there are no guarantees that you won't be penalized, there are no guarantees that if you follow Google's guidelines you will enjoy amazing success. There are other types of penalties that can be applied, and many clients choose to risk link buys as it can be very difficult to determine a well executed paid link was indeed one that was purchased.
Tell the risks to your customers
The absolute first thing you need to do is make sure that clients know exactly what you are doing and how dangerous it can be. You are defintely playing with fire here, so make sure that clients know the risks. It is enough to say that paid links violate Google's guidelines. You need to lay out what can be happen, how likely that is, and have the client make the choice. Never talk anyone into buying backlinks.
17.3 Link brokers
Ideally you should avoid link brokers, However it is the reality that there are some brokers, who have multiple sites that aren't connected and are actually really good sites. Be careful with your decisions.
18. Building flexibility in your linkbuilding campaigns
18.1 Report your progress frequently
The first action to building an adaptable linkbuilding campaign is ensuring you have a firm understanding of the progress you are making or not. This means frequently monitoring and reporting your progress. You have somebody you report to. Making these reports a priority from the start will build good habits that will serve your campaign in the event you need to pivot strategies. Monthly reports are a common cadence since you can compare traffic numbers month-over-month to track growth. This is not the only metric you should examine. You can analyze the specific pages you are pointing backlinks at, to spot potential issues before they become larger problems or lresult to inefficiency.
18.2 SEO linkbuilding metrics
Keyword rankings: While organic traffic growth is often the most important goal of a linkbuilding campaign, if you won't see any change on your target keywords, it is time to rethink your SEO linkbuilding strategy.
Time on page: A consistent decline in time on page might be the result of promoting a webpage that is trending in the wrong direction and this could be worth finding a new linkbuilding target.
% Exit: If more and more people will leave your site from the page you are securing backlinks to, you need to reexamine your internal links and consider how you can keep more of the referral and organic traffic your target page is earning on your site.
Bouncerate: If the bouncerate on your page continues to climb, even though you're earning quality links, your webpage might not be a good result for searchers. It will eventually be devalued by search engines like Google or Bing. Consider re-evaluating how your webpage matches searchintent and either rebuilt the page or target a more relevant webpage for your backlinks.
Link goals
It is also of great importance to schedule regular strategy calls with your customers or team. These meetings are important because goals can change, even when link acquisition is going excellent. Perhaps a new line of business opens, a new competitor enters or a virus pandemic sweeps the globe. None of these situations have anything to do with your linkbuilding strategy, but they do impact it.
18.3 Monitoring SERP changes & trends
Monitoring the search engine results pages (SERPs) of Google or Bing continuously, that are important to your website is another way to build flexibility into your linkbuilding campaign. Monitoring these SERPs, I mean more than just tracking SEO keyword rankings. Keyword rankings are important but there is much more you can learn from the SERPs.
18.4 Search intent
One of the biggest takeaways you can pull from monitoring SERP changes is how search engines like Google are interpreting searchintent for those queries. While SERP changes were more rapidly during the pandemic. These changes are constantly occurring as search behavior changes over time. For example, you are building links to help your service page rank for a certain priority keyword. But you notice the related SERP is beginning to show more and more informational and comparative webpages. Unfortunately, it is clear your page won't rank there because it doesn't match the search intent. The search engine like Google deems appropriate for that keyword.
18.5 Linkbuilding & SERPs
Knowing this information empowers you to change your linkbuilding campaign and focus time and energy somewhere else where you can be more. Keeping a close eye on the SERPs can also help you retain more backlinks. If you are promoting an asset for backlinks, you should be paying attention to what types of webpages or websites are ranking for related topics or subjects.
18.6 Videos can be linkable assets
These are the webpages that are succeeding with the audience you are targeting. You should model your own asset after their best attributes. For instance, if you see multiple ranking pages have videos, it makes sense that adding a video to your page will make it more linkable. These SERP insights will help you to bolster your linkbuilding strategy, as necessary.
18.7. Diversifying your linkbuilding tactics
Diversifying your linkbuilding tactics adds SEO flexibility. The reason you need to diversify your link acquisition strategies is simple: Google could negate a given linkbuilding tactic tomorrow completely. Google decide how their search algorithm operates, and if they judge a certain technique as manipulative, they could decide to take action to devalue any backlinks secured via said tactic.
18.8 Proven linkbuilding techniques
Promoting comprehensive resource guides.
Guest posts.
Finding unlinked brand mentions.
Securing backlinks through the community involvement like sponsorships, charitable donations & scholarships.
Professional partnerships.
Testimonials.
Backlinks on local or niche directories or resource pages.
18.9 Recap
Linkbuilding move quickly. You have to adapt just as quickly, otherwise you will not be successful. So, you must build flexibility into your linkbuilding campaigns from the start.
You must:
Regularly monitor & report progress.
Analyze search queries you are targeting.
Diversify your linkbuilding strategies & acquisition tactics.
SEO & Content Marketing Blogs
Hire a SEO specialist in The Hague
Herman Geertsema is an freelance SEO specialist and Content marketing expert. He is also the owner of SEO & Content Marketing agency Connect your World. Digital agency Connect your World is based in Den Haag. Herman is an experienced SEO consultant and content marketing specialist. Connect your World is available for SEO projects in the Amsterdam, Utrecht, Rotterdam, Breda & The Hague region. Please contact us if you need assistance from a SEO specialist for a new SEO strategy.