Local SEO for local businesses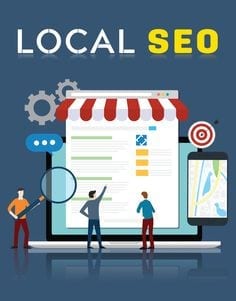 Why use local SEO?
Unless you are living under a rock, you have seen listing for local businesses appearing at the top of search results in Google and Google Maps. Local listings, previously known as Google page listings, then rebranded as Google + pages, now known as Google My Business Listings. However they will be titled next, they are a powerful marketing tool for small businesses.
Local SEO statistics
4 in 5 consumers use search engines to find local information.
50% of consumers who conducted a local search on their smartphone visited a store within a day.
18% of local searches on a smartphone lead to a purchase within a day
What is local SEO?
Local SEO or Local search differ from traditional organic search resultts by representing a local business instead of a normal web page, and appearing at the top of the search results and on map listings.
A higher SEO ranking with local SEO
User can get business contact details, opening hours and reviews and find the information they need quickly and easily, instead of having to dig around a clunky business site.
The local listings can be a powerful tool to attract traffic. In many cases, local listings can lead to many more inquiries than regular SEO rankings. But does this mean you should scrap traditional SEO in favor of local SEO? No, you can do both and potentially double the amount of potential traffic you can receive.
How to rank high with local SEO
Ranking high with local SEO takes a different approach than traditional SEO. Google's algorithm is looking for a different set of signals to determine the popularity of a business to decide how high to rank in the search results.
If you think about it, if a restaurant is really popular in a city, a whole bunch of links from all over the world probably isn't the best factor to determine how valuable the business is to the local area.
A better indicator of the importance would be mentions of the business's name and phone number across the web, customer reviews and details on the website that show the business is based in the area being searched.
Google most important SEO ranking factors for local listings
Proximity of address to the area being searched
Proper Google My Business category associations
Quality and authority of inbound links
Consistency of citations on primary sources like Google My Business, your website etc….
Domain authority of the website
Product / service keyword in Google My Business title
Quality and authority of structured citations
Consistency of citations on Tier 1 citation sources like the most prominent business directories
Click through rate from search results
if you want to rank high in the local search results, all you have to do is ensure your site and Google My Business page have more of these features than your competitors.
Getting started with local SEO
To get started, the first stop is to create your business page on Google My Business. Complete every area of your profile as possible. This means creating a detailed description of your business, available payment methods and so on. the more information you complete the more you increase your chances of ranking your page higher.
When creating your business listing, make sure you choose the most accurate category for your business.
Building citations
Citations are the links of local SEO. A citation occurs earch time your name, address, phonenumber is mentioned on the web. The more citations you have, the more likely your site will rank high. The easiest places to build citations are the many local business directories avalaible for businesses. While there's many online directories for creating business listings, the following websites would be a good start for a business:
Building reviews
Citations and reviews are the linkbuilding of Local SEO. If you are only building citations, you only have half of the equation covered. To rank highly you need to ensure your business accumulates online reviews.
Many businesses struggle with this. This is because it is tough to get customers to fill out reviews! You have to make it easy for your customers.
Include linjks to your business Google My Business page on your website, e-mail signatures, flyers and business cards, prompting customers to leave a review. Encourage customers at the end of each sale of transaction to leave a review. By creating every opportunity possible for customers to leave a review, you can significantly increase reviews. But whatever you do, don't buy reviews. This is a quick way to get into Google's naughty books. Purchased reviews can be picked up by Google's filters and are likely to be excluded from your business profile anyways.
Supercharging local SEO with photos and videos
For better or worse, for many people, talking selfies and photos of what they are eating for dinner has become a daily habit and it comes with no surprise Google are capitalizing on this ubiquitous trend. Late August 2017 Google enabled video and uploads from the general public to Google Business Listings on Google Maps. An underused marketing opportunity. A local business owner can use this to their advantage.
Why are photo's and videos important for local business?
Whether or not the number of photo's and video's uploaded to a Google Business listing is a ranking factor in unknown. It wouldn't be suprising if it is, it would be a solid indicator of the popularity and activity of a local business. But you can be sure Google will stay tight lipped on the matter. Either way the more photos and videos uploaded to your Google Business Page will lead to higher user engagement with your profile, which will likely lead to higher rankings.
A picture is worth a thousands words
Customers researching a local restaurant, cafe or hotel are heavily focused on photos when deciding where to go. If you haven't included photos and videos in your local SEO efforts, you are missing out on a piece of the pie. Here are two simple approached to get amongst the action.
Encourage customers to share their experience at your business
Encouraging customers to share their experience at your business with a photo or video is an effective way to build up authentic photos associated with your page. It will build up the perceived popularity of your business too. Why not take it to the next level and entice customers with a free drink or discount off their meal by sharing their experience?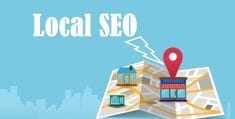 Local SEO: photos
Add photos to your business profile yourself. If your are running a restaurant, hotel, cafe or any other local type business for that matter you should have a handful of professional looking photos uploaded to your profile at a bare minimum. So customers know what to look forward to when visiting your business or what they are missing out on.
SEO & Content Marketing Blogs