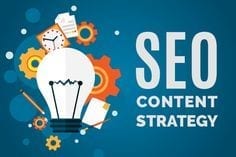 Thought leadership by Content Marketing to develop Content Strategy
Geschatte leestijd: 4 minuten
1. Optimize your images
It is very significant to make a content strategy as diverse as permitted. Be sure that you use page relevant and singular images. The reason behind this is that users are much more likely to look at an image before deciding whether or not to engage a website. Human nature directing users to first stare at images before processing. Attracting images elicit a positive reaction and will leave an impression.
Quality and size of your images
Also ensure the usage of the best quality format that is possible. Search engines prefer for high resolution images. Second try and bring down the size of your images where you can. This is due to search engines such as Google are rather keen on mobile websites and hence the creation of the 'first mobile index'. The pages with large images often take too long to spool and this can result in the departure of potential customers and visitors.
2. Create infographics to drive traffic
There is a reason why infographics are gaining popularity. It is because they are so effective. Web visitors gain lots of insights into a company's performance or core objectives through infographic presentations. Infographics enable you to present complex information in an easy to understand and user friendly approach. Most peeple are visible learners and they understand matters much better when visually presented to them. That is the reason why infographics can be a relevant piece of your Content Strategy.
Infographics for your Content strategy
Flowcharts
Maps
Versus comparisons
Timelines
Data visualization
Visual articles
Illustrated lists
Photo lists
3. Create fresh SEO content and offer resources
Why stop at creating infographics when you can provide extra value to your customers in other way? If you just create better content that what currently exists, and what your competitors have to offer, people will want it. Turn your content into even more valuable sources. Here are some ideas to get started.
Create case studies from previous clients
Turn blog posts into ebooks
Offer webinars or seminars
Provide printable guides and checklists
Visual content such as graphs, infographs, video's
Freemium versions of your product
4. How to create your Content Strategy?
The first thing to consider is will creating this piece of content help you achieve your goal? if it will provide you nothing for your business goals, or serves no purpose other than adding more content to your website, then why waste your time. Brainstorm and look at forums and other blogs what people actually need. Proceed with a keyword research to see which topics are things people are actually searching for. Finally add extra value. Compare your content to what your competitors are offering. What makes you stand out from them? What is your unique value propostion?
5. Optimize for Google's RankBrain
One of the most recent search engine algorithms is Rankbrain. it is an artificial intelligence system that enables the analysis of search outcomes. RankBrain checks out a website and then collect information on what the different pages are all about. The purpose is to find out the kind of SEO content and information that your website is providing website visitors. All the information obtained is then used to rank you anytime a search user attempts information that you have. For instance if you are an expert on matters to do with accommodation, then Rankbrain will schedule your site as an expert source of information relating to accommodation. For example searching for an Apple. The search engine have to figure out whether the user is searching for an apple fruit or Apple the tech company.
SEO Optimalisation & Content Marketing Blogs
Hire a content marketing expert
Herman Geertsema is the owner of SEO bureau Connect your World. He is an experienced SEO specialist and Content Marketing expert. Digital agency Connect your World will do business in the region of Den Haag, Amsterdam, Rotterdam, Utrecht & Breda. Do you have a question about a Content Strategy or do you want to hire me for any SEO strategy? Please check My Contactpage and mail or call me.