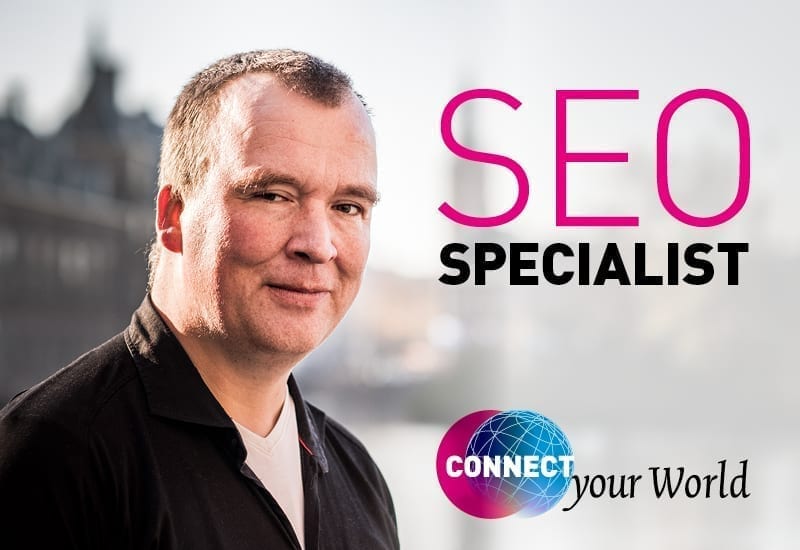 The owner explains his motivation to start with Connect your World.
My name is Herman Geertsema. I'm already interested in websites from the early years of the internet. In particular, the ease with which you as an organization or even as a private individual announce your message through a digital channel. It has changed the world.
Lees je liever in het Nederlands? Ga naar de Over Mij Pagina in het Nederlands.
Professional in International SEO & Content Marketing
I'm still amazed at the amount of people you can reach if you convey your message in the correct way on the internet. In fact this means a message, that is optimized for search engines and focused on a target audience. Therefore starting up a business in SEO & Contentmarketing feels very natural and self evident to me. I worked for 16 years at Aegon in an international environment and was responsible for several websites.
Fascinated by technology
I have a great fascination for technology because we have made great progress with it for the last 25 years. The possibilities are innumerable and topics such as 'internet of things' and 'virtual reality' will be given more and more form in the coming years. As a member of the Digital Economy Expert Group at a political party I advise the party and its members about the influence of technology on the economy and society.
Internet is defintely the greatest invention of the last 25 years and it still develops. In particular personal and corporate communication and the method of shopping has changed dramatically. Nevertheless, many organizations are not using the opportunities, which are available in the right way. And there I step in. I will assist them in exploring all the possibilities. This is why I founded Connect your World: specialist in International SEO & Contentmarketing. Connect your World is a specialized SEO & Contentmarketing agency established in The Hague.
Experienced in International SEO & Content Marketing for many years
For 16 years I worked at Aegon's Corporate Communications Department in The Hague. Aegon is a large multinational company specialised in insurance and pensions. In essence my work consisted of a mix of Web – Design, SEO and Marketing & Communications.
During the past four years I completely worked on websites and web – based software at smaller companies and organizations. UX-design, 'SEO and Contentmarketing' & 'Website strategy & analysis' were frequently discussed in several projects.
Customized SEO and Content Marketing Strategy
I like to work from my own vision. To solve problems in a creative and analytical way gives me a lot of energy. With this in mind I want to take the customer with me and help them with my knowledge. By using SEO & Contentmarketing more integrated and target audience oriented, the website of your organization can benefit even more. I'm based in The Hague, but I pick up projects throughout the urban areas Rotterdam, Amsterdam, Utrecht.
The website: The most important means of communication
Very often the website of an organization is the first calling card to the outside world. Thereby it is the most important means of communication. I regularly come across websites which do not meet expectations. This may be caused in fact by poor navigation or overdue maintenance. Numerous other factors are a possibility as well. Especially International SEO is a difficult subject. Always hire a SEO specialist, if you deal with international SEO.
The world is changing so fast. Therefore continuous improvement is the key to success. One of my strengths is, that I am eager to learn. However SEO and Contentmarketing have no secrets for me. In the meantime, I know what is needed from these areas. For this reason I experience and apply new knowledge every day.
Customer satisfaction
In either case the interaction with the customer is fascinating. In conclusion it is of great importance in order to achieve a good result for each stakeholder. However very often things go wrong here. I want to make a difference in this by crawling into the DNA of the client. Customer loyalty is a our core value. Read more about Connect your World.
Who am I?
I live with my wife and two children in The Hague. I regularly go to the soccer club ADO The Hague together with my son. I'm fond of reading.
Please read the about us page to gather information about SEO & Content Marketing agency Connect your World.
More content about Search Engine Optimization (SEO)
Contact SEO specialist Den Haag
Colleagues regularly described me as a hard worker with good analytical skills. I love to work on a project together with a team. I have a cheerful and calm character. The owner of SEO agency Connect your World. located in The Hague is an experienced SEO specialist and a Content Marketing expert for many years. Would you like to know more about me? Take a look at my LinkedIn profile.Please surf to My Contact Page and give me a call or drop me an e-mail.